Don't Ignore Your Skin!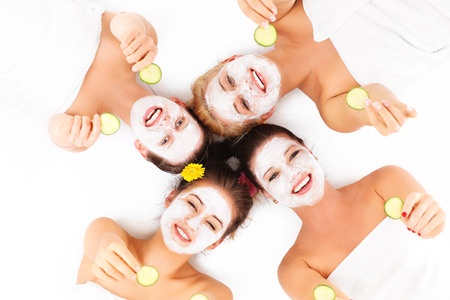 You know your skin is crying out for a facial, but you're stuck on which one to choose. Here's the best way to decide whether a microdermabrasion or a chemical peel is best for you.
Chemical peels are used to remove the top layer of your skin. This procedure is a great way to get rid of fine lines or wrinkles. The chemical peel will give your skin a smooth, fresh feel almost instantly.
Microdermabrasion is a procedure where fine crystals are sprayed onto your skin. Dead skin cells are removed from the top layer of your skin, giving your face a lighter look. Wrinkles and skin blemishes are noticeably improved with microdermabrasion procedures.
Microdermabrasion is a skin polishing technique that can rejuvenate your skin to produce a more youthful look.
Ready to schedule your chemical peel or microdermabrasion procedure? Here's what we offer at Rumor Has It Day Spa.
E-fresh Facial. Short on time? This quick, but highly personalized treatment will clean, exfoliate and revitalize your skin in just 30 min. You'll experience clean, smooth and refreshing skin. 30 minutes / $55.00
Rock Star Facial. This skin treatment is quite comprehensive to unveil your skin's best health. This deep cleanse facial begins with a professional double cleanse exfoliation, extraction (as needed), facial masque, toner and skin protection. Follow this up with a relaxing massage to your chest, neck, shoulder and face. 60 minutes / $100.00
Rescue Facial. A great choice for teens and young adults, this facial will help minimize bacteria that cause acne, improve your acne and minimize acne scarring. You will also see improvements in the texture of your skin. *Note that typically 6 treatments are needed depending on the severity of acne. 60 minutes / $100.00
Rumor Has It Facial. Are the signs of aging becoming more prevalent on your skin? Give it a revitalizing power boost with this organic treatment designed to help firm, smooth, nourish, regenerate and energize, while controlling the biochemical triggers that lead to skin aging. 60 minutes / $120.00
Red Carpet Facial. Discover why Hollywood's elite can't live without these miraculous, time-defying facials. This luxurious, oxygen skin care treatment infuses oxygen, plant-derived stem cells, peptides and a high concentration of enzymatic botanicals into the skin, leaving your skin luminous, refreshed and rejuvenated. 60 minutes / $150.00 (or a series of 6 treatments for $800)